Our Professional Events mainly focus on professional development of our members. Throughout the year, our Chapter organises exclusive networking events with professional firms and sponsors. These events are aimed at providing our members the opportunities to broaden their knowledge of the profession and build meaningful relationships.
BAP Monash & Melbourne x CA ANZ: Future of Accounting
19 April 2023
The 21st century has brought in many technological advancements with recent ones including AI, machine learning, Chat GPT and many more.
We were joined by a panel featuring Ian Grant (Vince & Associates), Yi Shan Neo (KPMG), Andrew Hobbs (Grant Thornton), Jesse Spehar (CA ANZ) and Joshua Jones (CA ANZ).
Members had to the opportunity to listen to industry insights about how technology is changing and helping the workforce, learn about the CA program as well as a socially network with the panellists and members from both the Melbourne and Monash Chapters.
BAP Mentoring program: Trivia night
5 April 2023
Bringing together mentors from BDO, PwC, Grant Thornton, Nous, NAB and Dentons, and mentees from BAP Monash and Unimelb, this trivia night which was held in a casual environment allowed participants to get to know each other in a relaxed environment, fostering new friendships.
BAP Mentoring program: Initial Meet&Greet
27 March 2023
As we recognise the importance of mentoring, we have introduced our first every mentoring program!
This program kicks off with an initial meet up between the mentees and mentors. This gives mentees the opportunity to get to know their mentor's industry and background as well as mentors the opportunity to discover ways in which they can offer valuable insights to the mentee's career goals.
25 October 2022
In collaboration with MYOB, an Australian company providing accounting, taxation and business software services, members were able to immerse themselves on an office tour with MYOB and experience their culture of community and belonging over a casual networking session and lunch!
11 October 2022
In collaboration with Beta Alpha Psi – University of Sydney, we held our flagship Speed Networking event for 2022.
Our members had the chance to meet and network with a wide range of representatives, from PwC, Deloitte, KPMG, BDO, NAB, Grant Thornton, MYOB, Pitcher Partners, CA ANZ, AON, ACCC, Gilmour & Associates, Antipodes, PM Capital, and Pinnacle.
Square Peg: Learn about Venture Capital
21 September 2022
In collaboration with global investment firm Square Peg to gain insight on the venture capital world.
With over US$3 billion in assets across its portfolio, Square Peg has invested in over 50 companies across Sydney, Melbourne, Tel Aviv and Singapore.
With an opportunity to ask Jethro Cohen, our Square Peg representative/investor about his day in his life and all things VC, this is an exciting opportunity to learn more about the VC industry.
BAP x MYOB: Introduction to MYOB
13 September 2022
In collaboration with MYOB, an Australian multinational company, we held an informative event where members could learn more about the services they provide through their software and how it can simplify and benefit small and medium businesses.
The event comprised of not only learning about MYOB and their digital courses but members could also add these to your CV/LinkedIn upon completion as well as ask questions at the end of the event!
BAP x FMAA x CA ANZ: The Future of Accounting
11 August 2022
The event featured a panel of professional representatives who provided key insights on what lies ahead for the accounting industry. Focusing on the industry's future prospects, the panel covered high growth fields such as artificial intelligence, data, technology, sustainability, cyber security etc. This was a fantastic opportunity to get a glimpse into the accounting industry and gain market knowledge before applying for internship/grad roles.
BAP x Grant Thornton: Excel Workshop
2 August 2022
We were able to gain insights into the Private business Tax and Advisory teams at Grant Thornton, ask our burning questions to the panel at a Q&A session, learn foundational excel skills, and network with Associates and panelists.
The event consisted of foundational excel skills building, sharing of real case study / practical applications of Excel in their current roles, panel discussion, general Q&A and networking with presenters, panel members and Associates from the Private Business Tax & Advisory team.
BAP Monash x Unimelb: Speed Networking
5 July 2022
BAP Unimelb members were very fortunate to be able to participate in the Speed Networking Event.
The event consisted of food, drinks and a chance to socialise before group rotations rotations began. The event included representatives from Pitcher Partners, Grant Thornton, KPMG, PWC, NAB and Deloitte. The successful small group format gave members the opportunity to meet all of the representatives from each business.
Thank you to BAP Monash University for coordinating and hosting this event on their Caulfield campus.
BAP Monash & Unimelb x Xero: Office Tour
29 June 2022
Our members visited the Xero HQ on Wednesday where they got a tour of the Melbourne office. Following the tour was the day-long session where members were supervised in completing an Advisor Certification, as well as given the opportunity to learn more about the Xero accounting software.
Thank you to Xero for hosting, and BAP Monash for organising this amazing day full of professional development, learning and networking for our members who attended.
BAP x Gilmours & Associates: Interactive Consulting Workshop
26 April 2022
Big thank you to Gilmour & Associates for hosting the interactive presentation and networking evening at their office.
Members were given the opportunity to learn about consulting, the variety of industries Gilmour & Associates operates in, as well as what makes them an inviting and interesting firm to work at.
14 April 2022
Big thank you to Beta Alpha Psi – Xi Epsilon, Monash University and KPMG Australia for bringing this event together. We are very appreciative on being able to get a glimpse into the opportunities and service lines KPMG offers!
BAP x CA ANZ: Interview Skills Workshop
16 March 2022
The Interview and Body Language Skills Event was held in collaboration with Chartered Accountants ANZ and presenters from Bluerock: Tien Do and Sabrina Del Borrello.  This was an online event where members were stepped through a mock interview and given valuable insights for your next interview!
BAP USYD x Unimelb: Speed Networking
14 October 2021
In collaboration with The University of Sydney chapter of Beta Alpha Psi, we at Xi Lambda recently held out flagship professional event for 2021: Speed Networking!
Our members had the chance to meet and network with a wide range of representatives, from firms that varied from government services, technology, accreditation, advisory, and more!
We are so grateful for all of the companies in attendance – and it is always great to see our members meeting students from other chapters throughout their BAP journeys.
BAP x McKinsey & Company: National Consulting Case Competition
7 October 2021
BAP is proud to have partnered with McKinsey & Company to present the upcoming BAP National Consulting Case Competition!
This gave members the chance to tackle a real business issue, get hands on experience of management consulting and receive feedback from McKinsey consultants. This competition was open to students to enter in teams of 2-4.
Held in collaboration with BAP university chapters across Australia, this is a rare and unique opportunity to develop your business analytical skills.
Top teams competed in National Finals for a chance to get amazing cash prizes and mentorship from McKinsey & Company.
BAP Monash x Unimelb x Swinburne: Leadership Day
29 September 2021
We hosted our annual BAP Leadership Day! Over a successful 2-day leadership series run in collaboration with Beta Alpha Psi Monash and Swinburne, our members had the pleasure of listening to Josh Farr from Campus Consultancy about the importance of a Growth mindset and resilience, habits for peak performance, mastering communication, and adaptive leadership/leadership archetypes.
In a collaborative workshop format with lots of interactions and discussions, it was a fantastic 2 days for young leaders to learn the attributes and qualities to drive their future growth and development.
BAP x Pitcher Partners: Women in Leadership
19 August 2021
Along with

Beta Alpha Psi – Xi Epsilon, Monash University

, Beta Alpha Psi – Swinburne Chapter and Beta Alpha Psi – Xi Kappa, Deakin University, we had the amazing opportunity of partnering with Pitcher Partners to hosting a 'Women in Leadership' event.
We were lucky enough to hear from a fantastic panel of women about the experiences they have faced surrounding gender equality in the workplace. Topics of discussion included imposter syndrome, work-life balance, daily routines and the future of women in leadership.
We would like to thank Tahlia Dunlop, Sarah Wilkie and Angelique Zammit for their insights and advice. A big thank you also to Stephanie for helping us put together such an engaging and collaborative event!
BAP x MYOB: Personal Branding
30 April 2021
Thank you so much to Shailan from

MYOB

for showing our members how to build our personal brand on LinkedIn through an online workshop last night. We learned that Personal Branding is all about showcasing what we want to be known for, instead of allowing our brand to become an unintentional byproduct of what we've done.
A few things that most people haven't done—but could really benefit from—include adding both a cover photo as well as a lot more skills to their profile. We would once again like to thank Shailan for your time with us!
10 April 2021
It was great to host our first in-person professional event of the year! We enjoyed seeing familiar faces and getting to meet our new members!!
The AI in Accounting Workshop gave our members an informative session on the many benefits AI and automation bring to business accounting processes. We really appreciate the time and expertise provided by Maha at Xero!
BAP x BDO: Information session
27 March 2021
First event of the year! This week at BAP we partnered up with BDO for an insightful session about BDO.
Thanks to Louise, Mish and the team at BDO Australia for taking the time to personally present to our chapter on Tuesday night! We learnt a great deal about the opportunities BDO Australia offers.
It was also great to see so many familiar faces eager to attend virtually for our first professional event of the year!
BAP USYD x UniMelb Accounting & Finance Speed Networking Event
17 September 2020
A massive thank you to all our industry reps who joined us for our speed networking event yesterday, in what was our inaugural collaboration with Beta Alpha Psi – University of Sydney!
COVID-19 has placed a multitude of limitations on our lives and networking opportunities have been hard to come by, but this event has shown that does not have to be the case. By rotating members in breakout rooms with representatives from their industries of preference, everyone got the chance to network and gain insights into what careers at these firms would look like!
Another massive thank you to our chapter president Marlayna for her tireless efforts in ensuring the room allocations, by no means a small feat with 17 firm representatives (Atlassian, Australian Taxation Office, Banks Group, Canva, Cbus Super Fund, Commonwealth Bank, Deloitte, EY, Grant Thornton Australia, IBM, KPMG Australia, L'Oréal, Macquarie Group, Oaktree, Transurban and Victorian Auditor-General's Office) and 120 participants from both chapters.
We hope everyone in attendance enjoyed the event and formed meaningful connections!
CPA Australia: Standing Out in a Crowded Market
12 August 2020
COVID-19 has resulted in a change in circumstances for many people and a heightened level of uncertainty. Our members got the chance to hear from industry experts as they share their insights, experience and tips to assist them.
We were joined by an expert panel featuring Brad Gatehouse CPA, Head of Accounting & Finance and Supply Chain & Operations, Tribe; Lisa Oakley, Director, Love Your Work NZ; Laurent Sylvestre, CEO and Founder, The Human Perspectives. We also got the chance to join in the Q&A session during this interactive webinar!
McGrathNicol: COVID-19 Business Disruption & Preparation for Rebound Session
6 August 2020
Our members had the opportunity to attend a webinar session hosted by the wonderful team at McGrathNicol. In this session, our members had the chance to hear from the experienced guest speakers including Rob Smith (Partner), Nicole Jackson (Senior Manager) and Frances Cardamone (Assistant Manager) who shared their data-supported insights of the Australian economy in wake of the recent pandemic lockdowns and seismic shifts to consumer behaviour.
It was an interactive session as we also got the chance to brainstorm ideas on controlling working capital and reflect on the key takeaways at the end of the session. A huge thank you to the McGrathNicol team for hosting this insightful webinar!
Pitcher Partners: Power BI Session
28 July 2020
A massive thank you to Pitcher Partners for this introduction to Power BI! In this day and age, just about everything is driven by data. This event provided an opportunity to get training with one of the leading data visualisation tools, which was certainly beneficial and eye-opening for all members in attendance.
Our members were all impressed by the extensive functionality and efficiency of Power BI and its endless applications in an academic as well as professional context!
Insider Guides Information Session
22 May 2020
This morning we joined Insider Guides to hear about the future careers of international students.
Guest speakers Bijay Sapkota, Rebecca Hall and The Hon. Phil Honeywood shared some important perspectives on the future job prospects for international students in a job market that has been heavily impacted by both the Australian bushfires and the COVID-19 pandemic. With the Australian economy experiencing unprecedented unemployment levels, the search for jobs has become increasingly difficult – especially for International Students who have limited work rights.
Top tips for securing employment included encouraging international students to become immersed in Australian culture and taking steps to help their job applications stand out from others; by doing things as small as following up with recruiters after sending in their CV. It was suggested that employers also find value in seeing students join in on community activities- whether through sporting teams or volunteering.
Huge thank you to the Insider Guides team for this insightful session!
Grant Thornton Networking Night
11 March 2020
On Wednesday March 11th, our BAP members joined representatives from Grant Thornton for their 'Get to Know the Business' Night!
We met with a number of representatives from audit through to consulting, and heard about what to expect through pursuing a career at Grant Thornton.
​

It was a wonderful privilege to visit the Melbourne office, and we thank Grant Thornton for hosting us!
1 October 2019
The second day of the BAP Leadership Day event was jam packed with brilliant speakers and presenters as well as interactive workshops and time for our members to network and socialise with the guests and the members of BAP Monash University.
Centred around the theme of Diversity and Inclusion, the day started off with a presentation from EY representatives Derek Li, Claudia Riseborough, & Kirsten Callander about D&I at EY. The morning session concluded with an Equality and Inclusion interactive workshop where Nick McGuigan, Lisa Powell and Alessandro Ghio got the members to create "Unboxing Videos", expressing in a creative and hands-on way how diversity can be encouraged in teams.
A hearty lunch was catered for all attendees by the Asylum Seeker Resource Centre, followed by sessions about Neurodiversity by Andrew Eddy & Chris Turner and Supporting Indigenous Australians in the Workplace by Richard Hurst.
The last speaker session was a vibrant and interactive session about Gender Equality by Helen Babb which sparked lots of interesting conversations amongst members.
The day concluded with an informative panel with Elliot Batiste, Brent Patterson and Mangala Prasetia about the upcoming Best Practices and Project Run With It competitions coming up in the BAP calendar next year.
The committee members from BAP UniMelb as well as BAP Monash put many hours into this extremely successful and engaging event, and all members convey their gratitude to their hard work!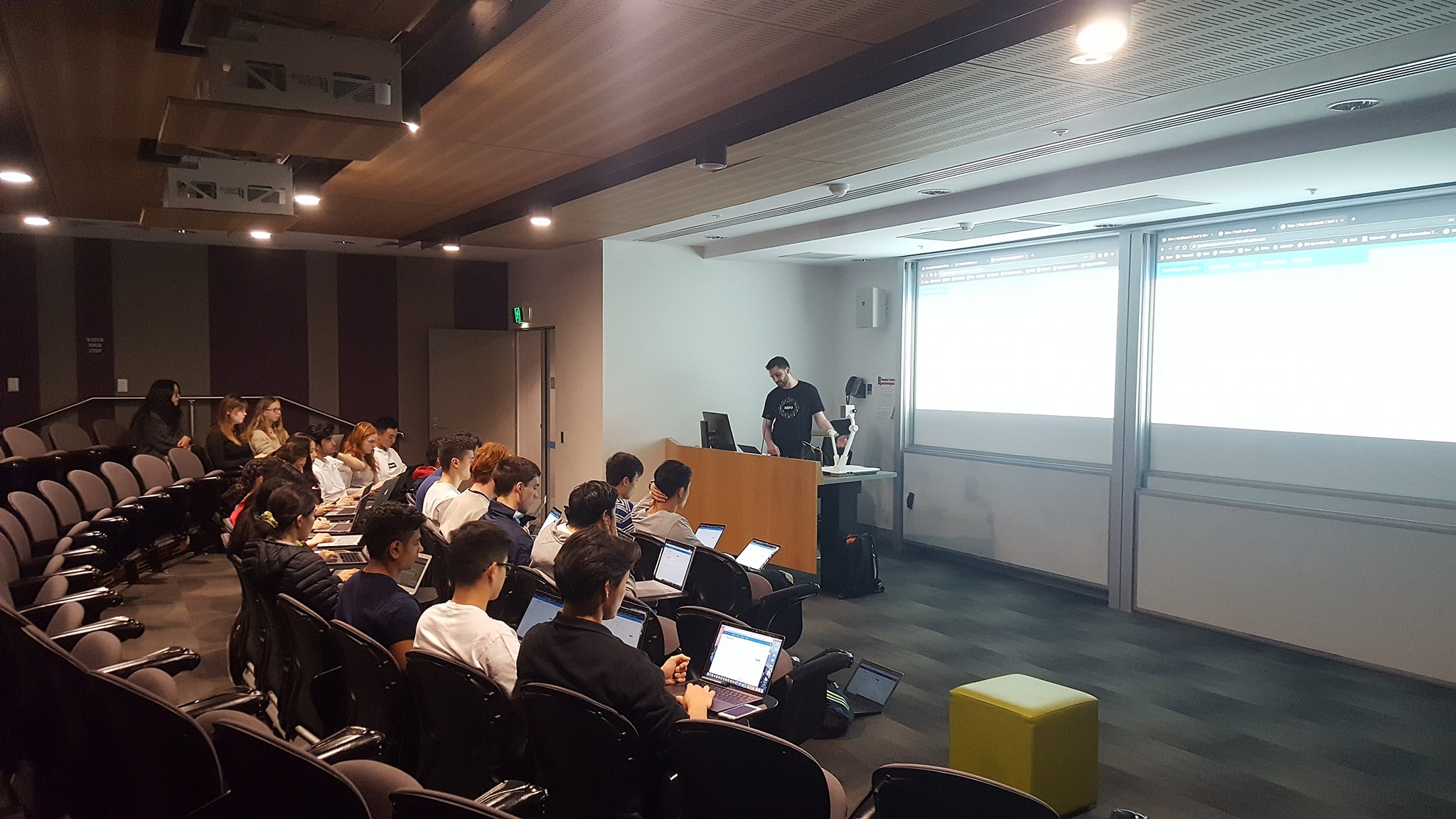 19 September 2019
In this event, our members gathered together on campus to attend a skills workshop held by Xero. We were invited to a version of Xero which we were able to familiarise ourselves with via several activities led by the wonderful Xero representatives Louis Morello and Maha Siddiqui. These activities not only helped us understand the basics of the program, but also enhanced our knowledge on some of its more advanced functions. We were also able to learn about the network of apps that can be used in conjunction with Xero, which greatly increase its functionality!
Our members thoroughly enjoyed being able to learn about and get hands-on experience with one of the most popular accounting programs in Australia, which will be sure to aid them as they make their transition into the workforce!
We would like to thank both Louis Morello and Maha Siddiqui for taking the time out of their busy schedules to hold a thoroughly informative and enjoyable session on Xero's software!
23 May 2019
The Xi Lambda chapter had the pleasure of hosting MYOB for a session on MYOB Essentials.
The session involved exposing students to MYOB AccountRight and MYOB Essentials, showing us features including payroll, invoicing, bank feeds, paying super and single touch payroll.
The session was highly informative and students were able to appreciate the value of being skilled in accounting related software and how these skills can improve work efficiency and work flow.
The software with its user-friendly interface and advanced AI provided for a quick and comprehensive understanding of the software. We were also exposed to creating advisory reports for internal and managerial reporting and ATO compliant reporting.
We would like to thank both Justin Scholten and Joanna Kate for kindly donating their time to us for the evening. What a fantastic way to end our first semester!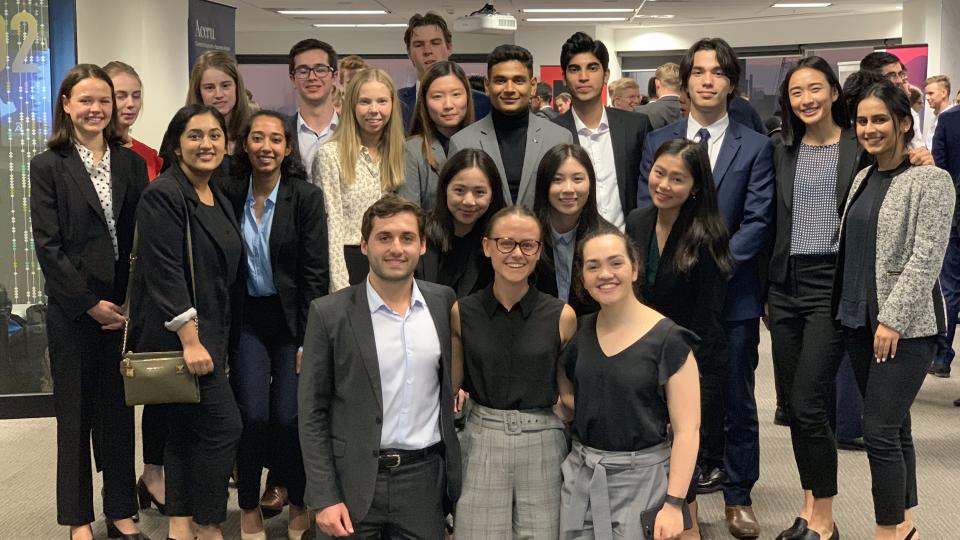 CA ANZ Networking Session
9 May 2019
We joined CA ANZ for their SMP Q&A Panel, where students had the opportunity to meet with industry professionals and learn about the opportunities present in pursuing a career in a small to medium professional services firms. Always great to see our Beta Alpha Psi – Xi Epsilon, Monash University friends at events too!
BAP Essential Skills Workshop with CA ANZ
6 May 2019
The University of Melbourne, Xi Lambda Chapter participated in a BAP Essential Skills workshop broken into two sessions on emotional intelligence and interpersonal skills in the workplace. We had the privilege of hearing from Karen Foo on her own experiences and how we are able to best advance our own emotional intelligence.
We are confident that our members went home with important takeaways that will greatly benefit them in their future career journeys!
Xi Lambda Chapter Installation & Initiation Night
3 May 2019
This was our Beta Alpha Psi flagship night where our full members were initiated and our chapter officially received its name, the Xi Lambda Chapter! All our members showed up in full force on this momentous evening! There was amazing catering with food and drinks for all, and our members had the chance to meet and network with some of the current leaders in the accounting world. Among those were the University Academics, International BAP representatives, Professional services firm representatives and other BAP members from both Monash and Deakin Chapters.
We would like to pass along our thanks to all the parties who have been involved in the establishment of Xi Lambda to date. We will continue to strive to be a leading student society for students completing their Accounting major with their Bachelor of Commerce. A special mention for the Business and Economics at Melbourne faculty for their ongoing support- we cannot thank you enough.
Thank you also to our international and interstate guests who made this event so special. This one will go down in the history books!
2 April 2019
We are off to a great start with our first professional event of the year now under our belts! We would like to extend a huge thank you to KPMG for hosting us for a fantastic session covering two essential skills- negotiation skills and accepting feedback!
The negotiation skills session saw us learning about the value of listening and leveraging a situation and what the goals and costs of the negotiation process can be.
During the accepting feedback session, we learned about the importance of being able to deliver and receive feedback in a positive and effective manner. This allowed us to understand and appreciate the importance of feedback for our own growth and development.
The discussion forum provided us a great opportunity to get in our own questions as well!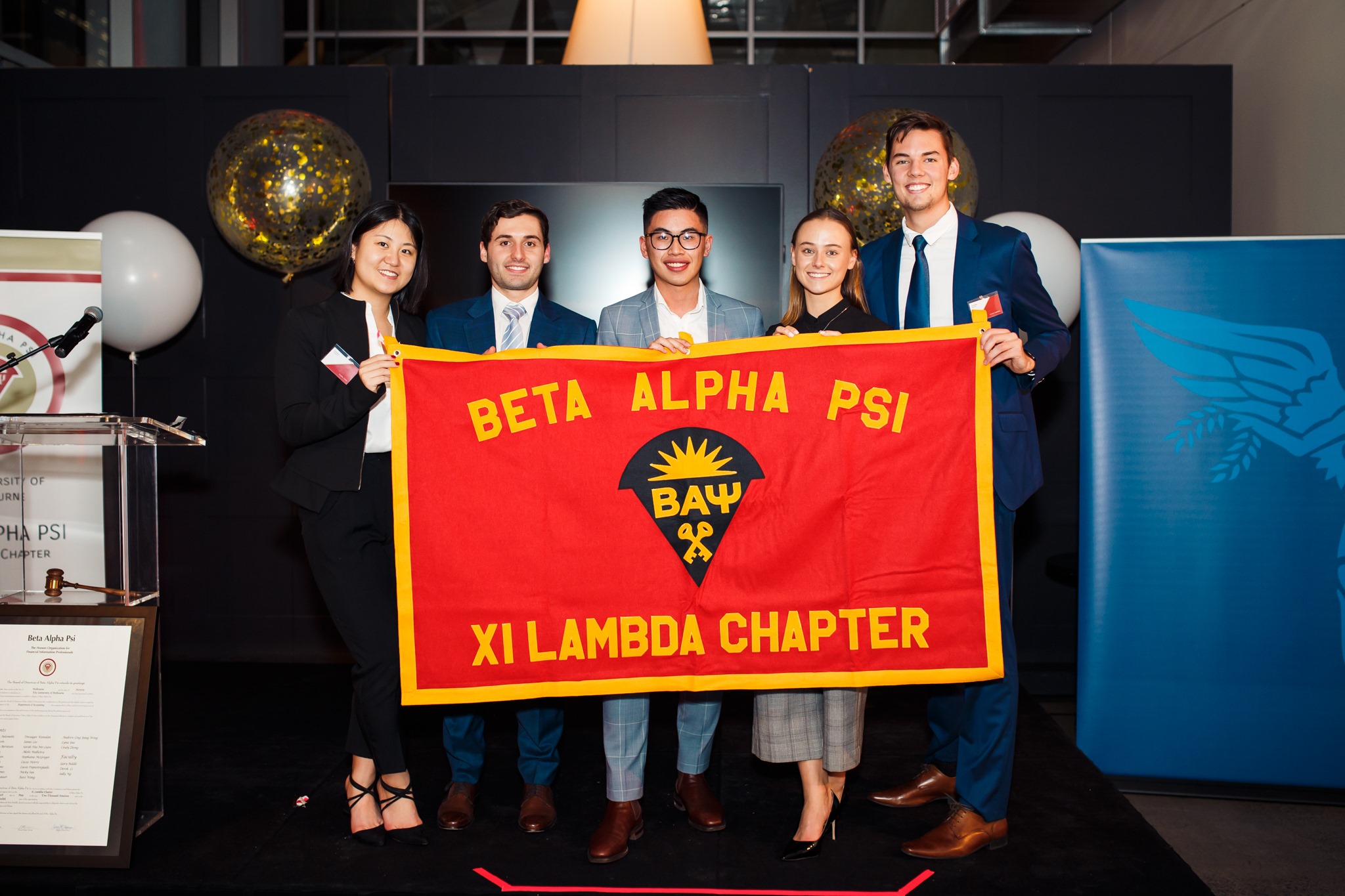 The University of Melbourne Chapter Launch
12 February 2019
On 12th February 2019, the University of Melbourne, Xi Lambda Chapter was officially launched. An auspicious event indeed as we are the third Chapter launched in Melbourne, Victoria and the 333rd Chapter internationally!
Congrats to Derek and the team who made this dream into a reality!